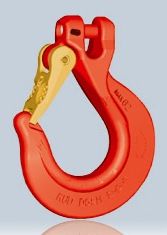 Granit-Super hook GSH
Conforms to DIN EN 1677-2
Extremely robust design
Forged safety latch slots into tip of hook, protecting against bending sideways
Ergonomic design, finger-protecting actuating hollows
Triple coiled, stainless double leg spring
Wearing edges on both sides – high bending resistance
Double composite locking sleeve, easy exchangeable
Completely pre-assembled with load pin and adapter sleeve.
If you cannot see what you want here, please email our sales department or call us on +44 1604 830083.

All technical specifications are approximate and do not form part of any contract. Unusual Rigging cannot accept any responsibility for errors and omissions and reserves the right to make changes. The user must determine the suitability of any products for their own particular purpose, both alone and in conjunction with any other product and shall assume all risk and liability in connection with them.

PRINT
Print Product Page