Although Unusual is known principally as a solutions and rental company, we are also the sales and service partner for several manufacturers, as well as retailing a range of products which we design and manufacture in-house. We have a 35 ton horizontal test bed and a 350 ton wire rope press on site, and can manufacture custom products as well as standard rigging items.

Unusual sells: Liftket electric chain hoists, chain and steel wire rope slings, distro/motor control, fibre and wire rope, hoists and winches, manual lifting equipment, safety and access equipment, truss, webbing products and many other rigging related items.

It is not possible to list here all the products stocked in our 1600sq m warehouse, just the most popular items. However, we can supply anything you need so, if you cannot see what you want, please email our sales department or call us on 01604 830083.
View our Sales and Service Brochure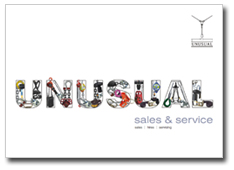 All technical specifications are approximate and do not form part of any contract. Unusual Rigging cannot accept any responsibility for errors and omissions and reserves the right to make changes. The user must determine the suitability of any products for their own particular purpose, both alone and in conjunction with any other product and shall assume all risk and liability in connection with them.